Welcome to The Pool Doctor
Best Pool Builder in San Diego
Welcome to The Pool Doctor, Inc. San Diego County's premier swimming pool design and build firm, serving San Diego and the surrounding areas. Whether you're interested in designing and building a custom inground swimming pool or spa, or updating an existing one, The Pool Doctor, Inc. brings 30 years of experience to the area in creating and renovating phenomenal poolscapes.
Custom Pool Design & Construction
The Pool Doctor specializes in custom pool and spa design and construction. A pool serves as a the gathering place for your family, and we treat it as such throughout the entire process. We'll work closely with you to help customize the right outdoor living area with water features, BBQs, fireplaces, fire pits, hardscape, lighting and much more, creating the perfect place you can relax and enjoy life. Your input is a vital part of the design and build process, and we look forward to working with you in creating a space that is an extension of your home.
We also offer renovation and remodel services for those poolscapes in need of a makeover or complete reconstruction. Whether the look is completely outdated, or you want to add a spa, water feature, baja ledge, tanning shelf or other feature, our renovation experts can create a new updated space you can enjoy once more.
Our Commitment to You
Our longtime membership with the Better Business Bureau and continued growth through referrals, rather than advertising, has created one of the best and stable pool businesses throughout San Diego County. When you choose to work with The Pool Doctor, you're choosing a company that builds memories, not just pools.
We've spent the last 30 years dedicated to continuously bettering our craft and bringing our knowledge of the pool and spa industry to every client we work with. We proudly incorporate the best building practices with top-quality materials and state-of-the-art equipment on every project, and we always strive to provide a superior customer experience no matter the scope of the project.
Give us a call directly or fill out our online contact form to schedule a free consultation today. We look forward to getting in touch and working with you to bring your backyard vision to life.
Read More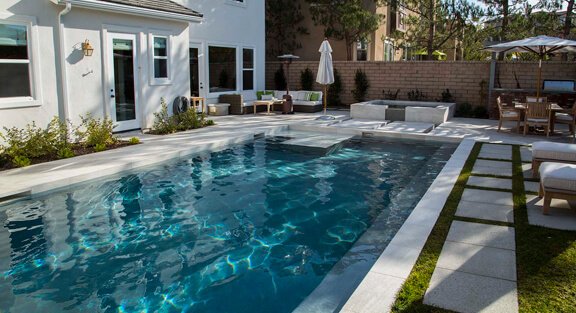 View Our Portfolio
See How We Can Bring Your Backyard To Life
A pool becomes the gathering place for your family and we believe we're building memories, not just pools. We'd be delighted to help you customize the right backyard entertainment area with slides, jacuzzis, waterfalls and lighting. Our knowledge of materials will make the process easy. Just fill out the quick request form and we'll contact you as soon as possible. Thanks for checking us out.